On the banks of the Santa Ana River stands Angel Stadium of Anaheim. It's a perfectly pleasant place to take in the great American pastime. There's even a geyser in left field, spewing water down an artificial mountainside.
At the Del Taco restaurant just across State College Boulevard, things are less comfortable.
Lonnie Barnes would know.
Barnes is a professional security officer with Signal 88 Security of Orange County, CA, who works a full-time assignment inside that bustling Del Taco.
Inside the store, employees had to deal with confrontational guests, soda thieves, and loiterers.
And in the parking lot, the situation could get even spicier.
Baseball fans caused congestion, parking at the restaurant and walking to nearby Angels Stadium. Dog walkers left messes in the driveway. Fights and drug use were common.
Until a month ago, that is.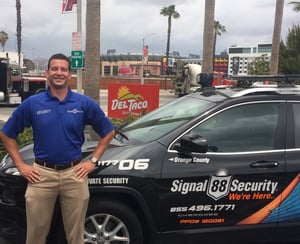 Since taking on the Del Taco assignment, Barnes' presence has transformed the store's atmosphere.
His supervisors said it best:
"Every day brings a new challenge and it takes a fit, alert, attention-to-detail-type security guard with good communication skills to guard this property successfully. Lonnie Barnes has shown these skill sets and qualities working here."
Thanks to Lonnie's steady and professional presence, the parking lot is less rowdy. The usual crowd of loiterers has moved elsewhere. The Del Taco staff no longer needs to confront problematic guests.
After only a month of security services, the Del Taco team has reported a major boost in morale and productivity. Patrons can now enjoy their burritos and tacos in peace, thanks to the safety provided by Signal 88 and Officer Barnes.
Marciela Hernandez, general manager of Del Taco , gave a glowing review:
"It's been over a month, and I couldn't be more grateful to have such a diligent person do his job with passion.
I want to express the things that have stood out to me the most: Integrity. Professionalism. High Standards. I have high expectations of my team and [Barnes] became one of us, reaching my expectations.
We feel safe and protected."
Barnes' work speaks for itself, but it's especially impressive in light of his family commitments.
Lonnie's mother, Robin, is battling a rare form of breast cancer. In addition to serving others full-time as a Signal 88 officer, Lonnie brings Robin to appointments and helps her with daily chores.
Lonnie's managers call him "a great son and a highly-valued employee." His selfless character is an example of everything Signal 88 stands for.
In fact, Barnes was named Signal 88's Officer of the Month for April 2018, an honor that comes with recognition from CEO Reed Nyffeler and the entire franchise network. How did he react to the news?
"I drove to Del Taco because I wanted to tell Lonnie in person that he won," says his supervisor, Richard Sandoval.
"He was so happy and appreciative and he wanted to call his mother right away, and he was beaming with pride sharing this cool news with her. He even gave me the phone to speak to her briefly and I told her what a great job they've done raising this fine young man."
Lonnie's dedication to family is a natural fit within the Signal 88 family.
"She is a strong woman with her own daily challenges," he explains, "but we take on those challenges together with the sometimes unseen help of Signal 88 Security!
"I use her strength and courage to find my own true value day-to-day at my current assignment."