Signal 88 Security is thrilled to name Officer Terrell Jones of Signal 88 of Greater Philadelphia as its September 2020 Officer of the Month!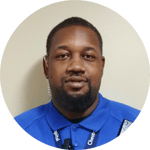 Terrell is the morning Lead at the Chestnut Hill Hospital. Longtime readers of the blog might recognize this hospital from our July 2020 award. Terrell's colleague at this site, Matayo Collins, earned the same honor.
Signal 88 is trusted across the continent to bring peace of mind at healthcare facilities like hospitals, but this is no easy task. The job requires expertise and awareness from all involved, from the local owner down to every officer.
The "normal" duties include escorting, keeping watch over patients who may try to escape, and de-escalating the occasional tense moment. Officers even help push wheelchairs if a nurse or CNA needs help. But this year, Signal 88 has stepped up to staff front desks, provide temperature checks and mask enforcement, and control access for restricted areas.
Amid all of this, Terrell's main responsibility is to ensure that each officer on his shift is on time, equipped and prepared for the hospital's morning rush. Any miscommunications or unpreparedness could mean the difference between a great day and a bad day. At a busy hospital, those stakes are much higher than elsewhere. Terrell handles the job with grace and poise.
If the security team's Operations Manager is unavailable or indisposed, Terrell is the central point of communications between hospital staff and Signal 88 officers. Naturally, this can be a high-speed role with many demands, but Terrell has risen to the occasion.
Terrell has taken on many additional responsibilities with aplomb, always contributing to the team and finding new ways for Signal 88 to provide peace of mind. His managers report that his growth has been phenomenal this year.
Terrell, we are proud of you! We look forward to your continued growth with Signal 88 and thank you for your work providing peace of mind for staff, patients, and visitors at Chestnut Hill Hospital!