Signal 88 Security is happy to announce that Officer Michael Wooten of #36 Atlanta, GA, is the Signal 88 Officer of the Month for November 2019.
Officer Wooten has been a key part of the Atlanta security franchise for 8 years now, continuously showing his leadership to others by setting extremely high standards.
"All supervisors who check on Wooten, look forward to the visit because they know what to expect in an officer who is quick to react to any given situation. At the same time, he has a great sense of humor that keeps all of the officers around him smiling," said Nicholas Sabino, Atlanta's general manager.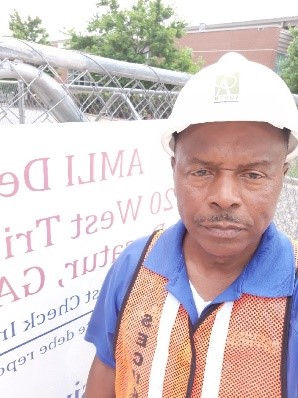 About 3 years ago, life tested Michael's strength with a battle against prostate cancer. But Officer Wooten didn't let this slow him down. In fact, he won his battle, coming back cancer-free and stronger than ever.
"Michael's high moral character is second to none. He is always willing to help out where necessary, especially when our franchise is shorthanded," said Sabino.
Officer Wooten was recently commended by a company executive of one of Atlanta's biggest construction sites, for deterring a trespasser. From his seasoned security background, Michael is trained in all aspects of the security field and takes it upon himself to make improvements at his workplace when he sees the need.
Officer Wooten's "can do" and "will be there" attitude is the reason he's depended on by his entire team, but also by Signal 88 for his endless loyalty and dedication. We thank Officer Wooten for continuing to promote our "Peace of Mind" mission throughout his community and team.