May 2018's Officer of the Month is Corey Snickles of Signal 88 Security of Raleigh, NC.
On a patrol of an apartment property in western Raleigh, Officer Snickles had the strange experience of encountering a running car simply stopped in the road. The lights were on, the car was running, but the vehicle appeared empty.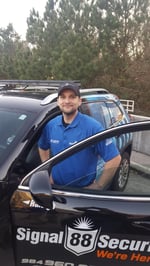 As he approached, he found the driver slumped over, unconscious but breathing. He rapped on the window several times with no response. As he opened the door to assist the driver, her foot slid off the brake. As the car started to roll backwards, Snickles reached in, engaged the parking brake, and turned off the car.
He accompanied the driver until EMS arrived, at which point she was stabilized and taken to the hospital. Her car was properly parked and locked near the scene.
Officer Snickles got involved in an uncertain situation where he could have easily looked the other way. In so doing, his fast action and clear thinking potentially saved a life. That dedication and attention to detail is what great security work is all about.
Officer Snickles, you are another great example of the great work Signal 88 officers do each day and night. We are proud to call you one of our own