June 2018's Officer of the Month is Officer Bobbee Wiedeman of Signal 88 Security of Lawrence, KS.
Officer Wiedeman had just finished a patrol in the college town of Lawrence, Kansas, when he found a downed motorcyclist in the road.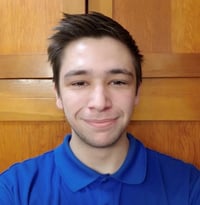 Before calling police, he activated his overhead flashing lights and positioned his vehicle across the road to block traffic. Debris from the motorcycle was scattered in the roadway.
The motorcyclist refused medical attention, but Bobbee remained on the scene to provide peace of mind and establish order in a tense situation. After police arrived, Officer Wiedeman assisted with debris removal and gave a statement.
Though it turned out not to be a life-or-death situation, Officer Wiedeman's actions were exactly what is expected from a Signal 88 officer. His calm and professional response ensured the safety of the biker as well as motorists in the road. His report is thorough and clear.
Bobbee, we're glad you're part of our team and thank you for your great work!