Signal 88 Security is thrilled to name Matayo Collins our Officer of the Month for July 2020! Matayo works for Signal 88 Security of Greater Philadelphia, PA.
This award goes to a team member who consistently excels at all parts of his or her job, and sets the bar high for all Signal 88 Security officers across our global network.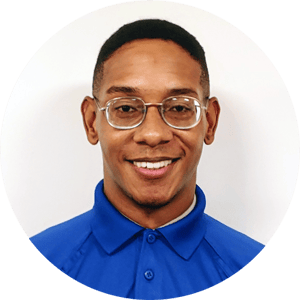 Matayo started with Signal 88 in January 2020. Since then, he's been assigned to a team at a hospital on Philadelphia's north side.
"Officer Collins exemplifies what a security officer should look like," says his manager, Dennis Bannister, who oversees the hospital team. "When our team is in need, he will go the extra mile. He has always stepped in to help other officers."
2020 has been a tough year to work in a hospital, but Matayo and the team have risen to the challenge. The "normal" duties remain: escorting, keeping watch over patients who may try to escape, and de-escalating the occasional tense moment. Officers even help push wheelchairs if a nurse or CNA needs help. But this year, Signal 88 has stepped up to staff the hospital's front desk, providing temperature checks and mask enforcement for everyone entering the building.
Matayo approaches all these duties with a professional attitude and cheerful demeanor, bringing peace of mind to hospital staff and visitors alike. His service in the U.S. Army Reserve contributes to that professionalism.
The Philly franchise "really pushes for a family atmosphere," explains office administrator Denise Mayer. Perhaps that family focus is no surprise in the City of Brotherly Love. "We support the officers. We're here for them, we get to know them outside of work. I've had officers call me for personal advice, outside of work, because we build that trust. We're all doing our part to get the job done."
Matayo has been a natural fit on that tight-knit team. He's a core part of Signal 88's promise to provide peace of mind, and we're proud to call him one of our own. Congratulations, Matayo!