This month, we recognize Officer Perry Morrison of Signal 88 Security of Riverside, CA.
Officer Morrison noticed a familiar car one day while driving his patrol route in Riverside, California. He'd seen it before on a "Wanted" poster, so he called 911. The San Bernardino County Sheriff responded and stopped the car just a few minutes later. Inside the car were two fugitives and about 30 grams of drugs!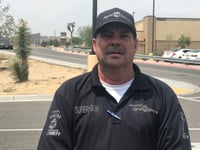 Thanks to Officer Morrison's attention to detail and sharp eye, two drug runners are now off the streets in Southern California. It's an irregular case, to be sure, but Perry's daily dedication to peace of mind enabled him to assist police in this important arrest.
Officer Morrison, we are proud of your work and thank you for your service!