Signal 88 Security's Officer of the Month for April 2018 is Lonnie Barnes of Signal 88 Security of Orange County.
About a month ago, Officer Barnes began working a full-time assignment inside a busy Del Taco restaurant in Anaheim.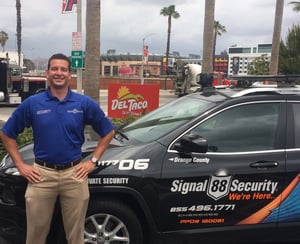 His daily presence has completely changed the customer experience inside the Del Taco, and has restored order to the parking lot outside.
Officer Barnes exhibits tremendous leadership and professionalism every day in his duties. He has earned high praise from his own supervisors and the managers of the Del Taco he protects.
Lonnie carries out his work with pride and integrity while also caring for his mother, who is currently battling a rare form of breast cancer.
Officer Barnes exemplifies Signal 88's core values of service and integrity.
Lonnie, we are proud to call you one of our own!