Signal 88 Security is pleased to name Danielle Thomas the organization's Officer of the Month for April 2019. Officer Thomas is a team member with Franchise #216 in Contra Costa, CA, in the eastern San Francisco Bay Area.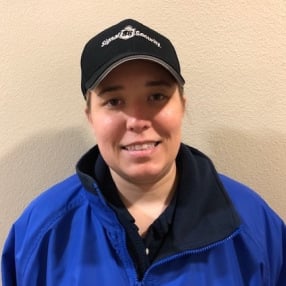 Her supervisor, Franchise Owner Roger Estrada, submitted the nomination with the following description:

"Without being told, Danielle displayed initiative by learning how to navigate [Signal 88's powerful but complex software platform] to schedule, input employees, create and modify post orders, and train new hires.
Danielle has been an invaluable member of the team and because of her, I was able to reduce my overtime costs by 60%, schedule staff a month out, and take time off to sleep and spend with my family.
Did I mention that Danielle is doing all of this with a brace on her leg? Danielle recently went through knee surgery, but her dedication to the success of Team Contra Costa does not allow her to take time off to rest, even after being ordered to do so!"

Danielle is a perfect example of the kind of officer Signal 88 Security strives to recruit, hire, and train. Her can-do attitude makes her an invaluable asset to her franchise, and she is no doubt a key factor behind #216's explosive growth. More important than that growth, however, is sustaining the commitment to operational excellence that makes Signal 88 great and gives our communities true peace of mind.

Danielle's nomination ended with an important piece of biographical information:
"Danielle has saved me more times this month than I can count, all while her military spouse is deployed. I seriously do not know how to thank her, although providing her much-needed recognition is a first step."

Danielle, we thank you for your service not only to Signal 88 and your community, but also to our great nation as a military spouse. We would be remiss without honoring the great sacrifices made every day by military spouses and families.

The entire Signal 88 organization is proud to join in providing much-needed and well-deserved recognition to Danielle Thomas! Congratulations, Danielle! We look forward to many more years of success!