Signal 88 Security is thrilled to name Officer Ray Valdez of Signal 88 Security of Orange County, CA, as its September 2020 Hero of the Month!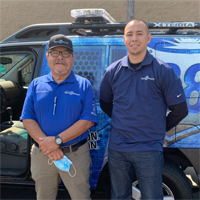 Ray was patrolling a major international retailer in Westminster, CA, and observed a male standing at the front of store who seemed to be panhandling.
Ray approached the gentleman to explain that such activity was not permitted on the property. As he got closer, he found that the man was about 18 years old and appeared to have Down syndrome.
He tried to gather some information and then contacted local law enforcement, as the young man had stated he did not want to go home.
In talking with local police, they learned that this gentleman had been reported as a missing person and that his family had been looking for him. Ray gave all information to law enforcement and helped them to take over the scene.
Ray started by observing and listening. His friendly and open-minded approach to this situation is the Signal 88 ideal. Then he reported the facts promptly to police, which in turn uncovered vital information. In an instance when a less attentive, less empathetic officer could've made matters worse, Officer Valdez made all the right moves. He helped a family find their son.
Ray, we are proud of you and commend you for handling this occasion with kindness and compassion!