May 2018's Hero of the Month is Jay Lamborn of Signal 88 Security of Sarasota, FL.
Lamborn was conducting a routine Friday night patrol at an apartment. In the dark distance, he noticed a flickering light, which he recognized as the beginnings of a fire. He raced to the scene and searched for the fire extinguisher, to no avail.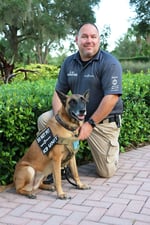 After calling 911, he began removing loose brush and dead wood from the path of the growing blaze. With cars parked nearby and no help in sight, Lamborn made a snap decision to use dirt to stem the fire's growth before it engulfed the vehicles.
In the commotion, residents gathered around. Though aware that these residents could have helped, Lamborn's primary concern was their safety and so urged them to stay clear.
Jay's ingenuity and persistence in containing the fire meant that it was never able to take hold. As the area was dense with brush and had experienced dry weather, the fire would have surely raged, causing damage to the cars in the lot and possibly the apartments themselves.
Officer Lamborn, thanks to your quick thinking and decisive action, a major disaster was averted! We are all proud of you!