June 2018's Hero of the Month is Officer Takiesha Santana of Signal 88 Security of Fort Myers and Naples, Florida.
Officer Santana arrived at an apartment property in Naples for a routine pool lockup. While locking the pool gates she was approached by a distraught woman, with a few children trailing behind her.
The woman told Officer Santana that she had lost a two-year-old child and had been looking for the boy for some time. The woman was the child's babysitter and had not yet called police, fearing repercussions from the boy's parents.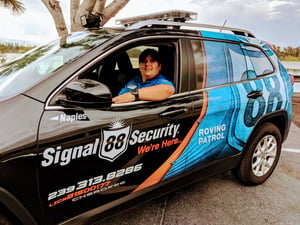 Officer Santana immediately called the police. She explained the situation and urged a quick response. In the meantime, she checked the surrounding area, including the pools and a nearby lake, with no signs of the boy.
Thankfully, only a few minutes later, the child was found safe by the Collier County Sheriff's Department. He'd wandered away from the apartment property and onto the sidewalk of U.S. 41, a very busy highway that runs through the center of Naples.
The sheriff's deputies each thanked Officer Santana, explaining that her immediate decision to call police possibly saved the child's life.
The entire Signal 88 franchise network celebrates Officer Santana's actions, which led to a happy outcome for the boy and his family. Takiesha, we are proud of your excellent work and devotion to serving the Southwest Florida community!