Each month, Signal 88 Security recognizes one to two heroes who went above and beyond to secure peace of mind for members of their communities. This month, join us in recognizing the heroism of Officer Nicole Griffin from Signal 88 Security of Raleigh.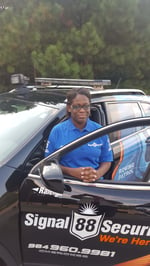 While conducting a patrol, she encountered several individuals who were heavily intoxicated. After instructing them to return to their rooms, she responded as one of the individuals passed out and began vomiting from his nose and mouth.

Griffin, being the only person in the area who knew how to help, instructed the other members of the group to call EMS. She moved the individual to his side and took measures to ensure a clear airway.

Griffin's actions saved the life of the individual and provided peace of mind for his friends and family members.