August 2018's Hero of the Month is Officer Spencer Huard of Signal 88 Security of Wichita, KS.
Officer Huard was conducting a patrol at a convenience store overnight when a man went behind the service counter to attempt a robbery.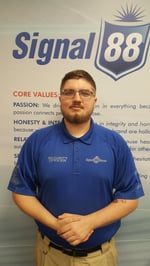 The robber didn't appear to be armed. Thinking quickly, Officer Huard grabbed the man by his backpack, moving him outside the store to protect the convenience store's employees.
On the sidewalk outside, the man became combative and charged at Spencer. With quick thinking and heroic action, Officer Huard was able to detain the aggressor until police arrived.
Everybody involved left the scene unharmed. The suspect was arrested by police and charged with three counts of battery and one count of attempted robbery.
Officer Huard, we are thankful for a safe resolution to this event and proud of your courage in keeping others safe. The Signal 88 community is proud to call you one of our own!