Signal 88 Security's Hero of the Month award for April 2019 goes to Officer Austin Hermes of #180 South Colorado Springs, CO.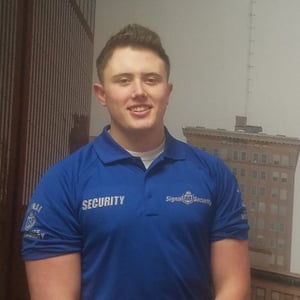 Early one April morning, Officer Hermes was conducting a regular overnight patrol when he discovered a man writhing in the road, clutching his chest and shouting for help. Austin sprang into action.
He helped the man safely to the curb and conducted an initial assessment of the situation. The man's breathing was shallow, his skin clammy, and his pulse weak. A certified EMT, Austin recognized these as symptoms of tachycardia, which can be a precursor to more serious problems, and took steps to provide immediate relief.
Officer Hermes remained alongside the man until help arrived, helping him breathe and manage the scary medical condition. The man was finally loaded into an ambulance and transported to a nearby hospital for treatment.
The man informed Officer Hermes that he had a history of heart attacks, and had mixed seizure medication with quite a lot of alcohol. As paramedics arrived, Austin relayed them this information as well as the patient's vitals and other medical details. Austin's training and composure were a major help to the emergency medics.
There's no doubt that most overnight patrols can be lonely and routine. But when a crisis arises, Signal 88 officers must be prepared to take action at a second's notice to provide peace of mind to those who need it most.
Officer Hermes answered that call, and so we are proud to name him the Hero of the Month. Congratulations, Austin!