It is often said, you have to spend money to make money. For entrepreneurs, that can be the biggest obstacle to overcome. Often times, starting a business requires investors and/or a large amount of upfront capital. Although Signal 88 Security is far less costly than many other franchise systems, this can still be a struggle for many interested candidates. This article is designed to provide candidates transparent information so that you know what is needed to get started.
Currently, the total cost of opening a single territory, including the franchise fee and working capital, ranges between $46,950 and $218,650. A full breakdown of the cost is provided in Item 7 of our Franchise Disclosure Document which will be covered with you in detail at stage 5 of the process. The bulk of that cost can usually be financed, but lenders will generally require a cash injection of 20-30%. Franchisees will need to meet lenders and requirements for qualifications for financing.
Signal 88 also offers some in-house financing options for candidates who qualify with a credit score of 620 or higher, those who can put at least 25% down and meet other market and experience qualifications.
See the chart below for cost and revenue breakdown: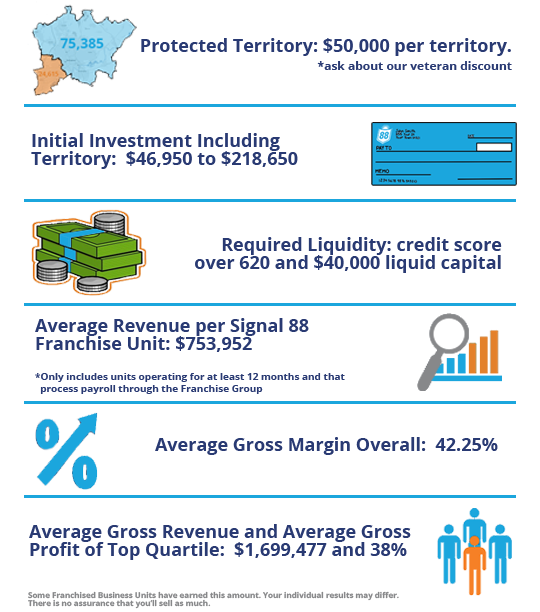 Some of the Initial Investment Costs you can expect include:
Territory fee
Security and/or business licensing in your market
Vehicle, upfit, and transportation (purchase or loan from dealership)
Equipment, such as some initial uniforms, sales materials, phone and laptop
Insurance
Travel for initial training
And potential other capital based on your business plan and other startup plans.
To see a full listing of our estimated costs and the financial representations we disclose, please continue through our process. See a detailed explanation of our process here.
You can also see more financing options here.
We understand that this is a big commitment, but we are confident that our business model can work for you. If you have any questions or concerns, please call 402-206-2777.
The information in this article is not intended as an offer to sell or a solicitation of an offer to buy a franchise. It is for informational purposes only. If you are a resident of a state that regulates the offer or sale of franchises or business opportunities, we will not offer you a franchise until we have complied with any applicable pre-sale registration and disclosure requirements in your jurisdiction. Residents of New York: This advertisement is not an offering. An offering can only be made by a prospectus filed first with the Department of Law of the State of New York. Such filing does not constitute approval by the Department of Law. Residents of Minnesota: This offering is registered under the registration No. 7556. Signal 88, LLC, 3880 S 149th St., Suite 102, Omaha, Nebraska 68144.