You may have a passion for entrepreneurship and protecting your community, but is it really feasible to blend those passions into one? There are already a lot of security companies out there; how will you compete? Is the security industry stable? These are all great questions that can be answered by analyzing the private security industry.
The private security industry has existed for as long as the civilized world and continues to increase in size as the world and threats change. Obviously, the industry looked much different thousands of years ago, but one thing that hasn't changed is the need for people to feel safe.
Because safety is a basic human need, the industry is impacted far less by the state of the economy than most other industries. Economic recessions are cyclical, and many businesses suffer greatly as spending decreases during these times. As unemployment grows, so too do crime rates and many police budgets are cut during recessions causing the need for security to actually increase.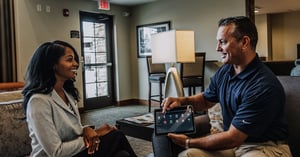 In 2008 during the heart of "the Great Recession", 233 police agencies were surveyed by the Police Executive Research Forum, a Washington-based law enforcement organization. The survey found that 44 percent of agencies reported a rise in certain types of crime they attributed to the United States' worst economic and financial crisis in decades. The survey also found that 63 percent of the departments were making plans for overall cuts in their funding for the next fiscal year. As a result, the security industry actually grew 7.8% during 2008 and has continued to grow every year with the most recent report from The Guardian showing 12% growth in 2016.
The ability for private security companies to continue to thrive in all types of economies has led to rapid growth in the last decade and projections estimate that growth to continue. In fact, according to a new study by Grand View Research, Inc, the global physical security industry is expected to reach USD 290.7 billion by 2025.
Below are more statistics on the private security industry:
· In 2017, the global security services industry, which includes security guards, had an approximate value of $116 billion. (Statista)
· Europe has the largest share of the industry with 26% market share in 2017. North America's share of this industry was 24%. (Statista)
· California employs the most security guards in the U.S., with over 151,000 currently employed according to 2017 figures. (Statista)
· Employment of security guards in the United States is expected to grow by 5% through 2024, with up to 1.15 million security guards employed. (Bureau of Labor Statistics)
· U.S. spending on security guard services is expected to reach $68 billion by 2019, which would be a 5% increase over 2018 figures released by the industry. (Freedonia Group)
· The mean annual wage for security guards in the United States is $30,730, which translates to $14.78 per hour. (Bureau of Labor Statistics)
· It typically costs between $12-$20 per hour to hire an unarmed security guard in the United States. The average cost is between $18-$25 per hour for armed guards. (Valuation Resources)
· Private security guards outnumber police officers in most of the countries around the world today. An estimated 20 million private security workers are employed globally. (Forbes)
· In India, there are an estimated 7 million private security workers employed, compared to just 1.4 million police officers. In China, there are 5 million security guards and 2.7 million police officers. Even in the United States, security guards outnumber police officers at a 2:1 ratio. (Forbes)
· There are between 10,000 to 14,000 individual contract security companies currently operating in the United States. Out of these companies, about 6,000 of them employ more than 100 people. (Robert H. Perry Associates Inc.)
· The 5 largest companies within the security guard industry based in the U.S. control over 50% of the current market. These companies together generate annual revenues for the industry of more than $11 billion. (Robert H. Perry Associates Inc.)
Obviously, the industry is huge and is comprised of some very large companies. However, what those companies lack is the mobility to adjust to a quickly changing market and the ability to localize their services. On the other hand, the thousands of small companies lack the scale and financial backing to be able to expand quickly. For these reasons, Signal 88 Security is seen as a disrupter in the industry because of their franchise concept which has local owners operating under a large national brand. Signal 88 has successfully innovated how security should look and has grown to a nearly $90 million company in just 10 years as a result.
The franchising industry also continues to increase and reached $711 Billion in 2017 according to FranchiseEconomy. The Small Business Association states that around 90% of new franchises are still operating after 4 years while only about 50% of new businesses survive four years or more.
With the proven track record of the franchise industry and the private security industry, Signal 88 Security is poised to become a major player in the industry for years to come. If you'd like to learn more about the Signal 88 business model, visit signal88franchise.com.