It's no surprise that the security industry is booming. Even though crime rates are trending down, violent acts and media coverage have people feeling more unsafe. Because of these prevailing feelings, communities have turned to private security to help keep them safe. Others in these communities have seen the need and want to help provide that safety. These people typically have a passion for serving and protecting others, but often see private security as a part-time job or a stepping stone for law enforcement. The industry is comprised of many more career opportunities than being a part-time guard, but the potential opportunity can go far beyond that.
Mike Lowry, owner of Signal 88 Security of Little Rock, is a great example of someone who realized this potential. Mike joined the military right out of high school and served in the Army for 15 years. After his service, he realized that protecting his community was something that he wanted to continue doing.
"I started going to school for criminal justice with the goal of getting into law enforcement", Mike said. "I worked part-time as a security guard for the University of Tulsa and then as a part-time security officer for Signal 88 Security starting in 2011. I saw these jobs as a resume-builder and a stepping stone to law enforcement."
Mike's goals were quickly re-routed as Toni Kosir, owner of Signal 88 Security of Tulsa, quickly saw his work ethic and began giving him more responsibilities.
"I was promoted to lead officer, field supervisor, director of operations, and then to general manager. I always try to say 'yes' to more responsibilities and take pride in my work. If I'm going to do something, I put my all into it."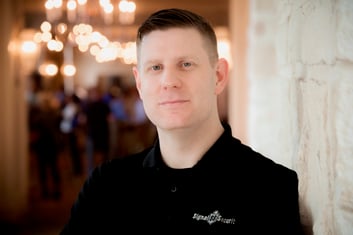 As Mike progressed in his new-found career, the opportunity to own his own franchise became more real when Toni was looking to expand her business into Little Rock. With Mike as her right-hand man, Toni approached him with the opportunity to take ownership in the business. The chance to create his own wealth and autonomy was too good to pass up. Now, Mike is the partial owner of Signal 88 Security of Little Rock.
"As an owner, I've taken on a more visionary and delegating role in Tulsa. In Little Rock, I handle a lot of the operations and managerial tasks and Toni handles some of the back-end stuff."
"Our short-term plan is to develop our team in Tulsa and have a strong supervisor core. That will allow us to grow Little Rock more rapidly and grow our brand in the area. My long-term plan is to have multiple self-operating locations, be able to sell the Little Rock location, and start a new venture."
Mike's plans changed, but his passion remains. He realized the opportunity before him and made the most of it. Others may see the opportunity, but don't see a pathway to get there.
"There is always a way to make something happen. For this franchise, there are now multiple financing options or you could just invest some time and work multiple jobs and you'll be able to do it yourself. There really aren't any excuses."
If you'd like to take advantage of the enormous opportunity in the security industry and become a Signal 88 Security Franchise Owner, visit signal88franchise.com or if you're looking for a way to jump start a career as an officer, visit signal88jobs.com.