Franchise concepts rely on their owners to build the brand and carry out the core processes and values, with consistency, across the network. Consumers expect the same products or services from every location, no matter where they're at. One-way franchises ensure this is happening is by creating best practices and streamlined processes. At Signal 88 Security, we take pride in our business model's successful track record and have invested in our training to make sure this model is learned and executed consistently across the network.
Learning is one of Signal 88's core values and is arguably the most important for new franchise owners. After becoming a signed franchise owner, our partners go to the headquarters in Omaha, NE for classroom training and then travel to Wichita, KS for hands-on training with the franchise there.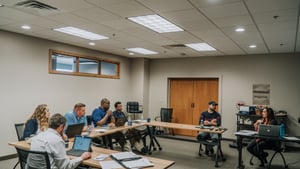 Mike Kosmet, co-owner of Signal 88 of Grand Rapids, MI recently completed training and was surprised at how much stress it relieved.
"At first, it was a little overwhelming to learn all the systems and apps, but it was very thorough and organized. It was encouraging to know that there is a support structure behind me and that there is always someone I can reach out to if I have questions. I came from a different industry, so I was a little nervous about entering the security field, but now I am reassured knowing that there is always someone there for me."
In today's digital world, personal contact is often overlooked. We assume that everything can be accomplished over text messages, emails, or online, but when a person is going through a big change such as becoming a business owner, speaking to an actual person can be much more valuable.
"I had a lot of questions about operations and it was nice knowing that I could reach out and talk to someone quickly. Even though they were in the operations department, they all had well-rounded knowledge and their follow-up helped me learn and progress quickly."
Signal 88 Security has also added a few days of hands-on training called "Center of Excellence Training." The new owners travel to Wichita, KS to learn from a franchise owner and see in-the-field operations. Tyler Peterson, the new owner of Signal 88 of Treasure Valley, recently completed this training.
"It helped me be able to visualize what the potential really is," Tyler said. "Not just that, but to be able to see the nuts and bolts of it, to see how it actually works. The care that the franchise owners have put into it and see what they've had to do to get it to that point. That's been really helpful to me to know the type of care we need to put into it for our own franchise."
"I think the attendees get a sense of, 'hey this is real. This is doable, this makes sense,'" said Kris Withrow, Owner of Signal 88 of Wichita. "It may seem daunting at first, but in reality it's not."
As Signal 88 Security continues to grow the franchise network, this training will undoubtedly continue to evolve and will continue to pay dividends in the future.
If you'd like to become a Signal 88 Franchise owner, visit signal88franchise.com to get started!