More than three-quarters of Signal 88 Security's franchise owners come from military or law enforcement backgrounds.
Almost universally, these owners cite the same motivation in joining the security industry as in choosing their prior careers: to serve and improve their communities.
Joey and Lacie Billiot, owners of Signal 88 Security of Lafayette, Louisiana, are two examples. Through local relationships and investment in their community, their business is growing quickly.
Lacie comes from the law enforcement field with 13 years of experience in Louisiana. Her husband, Joey, served in the U.S. Marines for four years, a reservist in local law enforcement, and as a private security contractor overseas.
"I first heard about Signal 88 Security through some buddies that were private contractors with me," Joey explains. "Lacie and I talked about it for about a year and she thought it was just another crazy idea of mine."
"But I got injured overseas, and the idea became more serious. We had to decide between joining the corporate world or doing something ourselves."
"We liked the idea of the Signal 88 Franchise because we didn't have to reinvent the wheel," Lacie says. "The network of other franchise owners made it worth it in itself, not to mention the comfort that the franchise support gave us."
Even with all of the support and resources that come with a franchise system, getting started can still be challenging.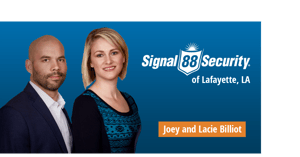 "We had no background in sales, so that was definitely the hardest part," Joey recalls. "Luckily, the Franchise Group helped train us in that regard. The support we got kept us going through those difficult times."
Lacie added, "Now that we're more established, it's been rewarding because now I can make my own schedule and be there for our kids. I can schedule things around their activities so that I can go to their games and events. That's something that we weren't able to do in the past."
The Billiots enjoy their freedom, and their community is enjoying the results of their work. Recently, Joey and Lacie were recognized by the local police department for their work at a troublesome apartment property.
"We took over security duties at an apartment complex and immediately asked to speak with the police captain because of the high crime rate in the neighborhood. He was surprised by this because no other security companies had reached out to him and asked them to be a partner in the efforts to clean up this property. We also gave the Captain access to our online reporting system which gave their team a better view of issues and occurrences on this property. Our reports have given them a daily log of all activity on this property during our service hours."
"When we started our services, we set expectations right away by enforcing the apartment's rules strictly but fairly. When we started there, some of the residents would tell us to just go sit in our cars like the other security guys do. They quickly learned that we don't operate like that. We take our jobs seriously and hold everyone accountable. It used to be 'party central' and had multiple shootings, but now it's much quieter. We see kids playing outside again and we try to build a relationship with the residents. "
Signal 88 Security of Lafayette has proven time and again that they can make a true difference in their community. They recently began services at another apartment property and had the same success. That property has even seen their occupancy increase by 30% since we started."
Thanks to their tireless work and community involvement, Joey and Lacie are beginning to attain the sales success that troubled them at first. News of Joey and Lacie's results has spread through the region. They recently met with a former elected official from neighboring Lake Charles, LA. In turn, he gave his recommendation to local business owners.
"He loved Signal 88's concept, what we do, and he connected us with contacts in the Lake Charles area. That's an area we definitely want to expand into."
The Billiots have big ambitions for their business in the coming years.
"We want to expand our client base by looking into new industries and verticals. We want to be the leader of the security industry in Lafayette and Lake Charles."
With their proven track record, Lacie and Joey are confident that this is achievable, and that they'll continue to make a difference in the community they love.
If you are interested in making a difference in your own community as a Signal 88 Security Franchise Owner, get started at signal88franchise.com.