A young accountant fresh out of college is interviewed by the owner of a small business. "I need someone with an accounting degree," says the man. "But mainly I'm looking for someone to do my worrying for me. I have lots of things to worry about, but I want someone else to worry about money matters."
"Ok," says the accountant. "How much are you offering?"
"You can start at $75,000 a year," says the owner.
"That's a great salary!" says the young accountant. "How can a business like yours afford to pay so much?"
"That," says the man, "is your first worry."
---
For many new entrepreneurs, this old joke strikes close to home. Small business owners often feel overwhelmed by their new responsibilities: accounting, billing, collections, and payroll — not to mention running a business!
Signal 88 Security Franchise Owners have much less to worry about thanks to the comprehensive, professional support each receives. Owners don't need to worry about many of the accounting functions or learning to do payroll — Signal 88's administrative staff stand behind each owner.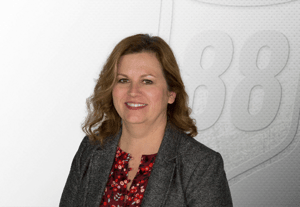 "We try to help with as many of the administration functions as we can," explains Shelley Aikins, Vice President of Accounting at Signal 88, LLC.
"We help process payroll, manage cash flows, ensure licensing compliance, deal with insurance legalities, and help Franchise Owners understand and improve their financials.
Another thing that sets us apart is our financing program. We help manage some of the financial burden that comes along with growth. Many new contracts don't start paying out immediately, so we help cover some of those costs with our lending and financing programs so that our franchisees can continue to grow and pay their bills on time."
As the Signal 88 network grows, the efforts of each department are constantly developing to better meet franchises' needs.
"We've really refined our procedures and best practices over the years to help our department and our owners operate more efficiently. Recently we improved our reporting to help owners understand their numbers and increase their profitability."
"As we continue to evolve," Aikins adds, "our main focus will always be to concentrate our efforts on what our owners truly want and need."
When asked what the most challenging part for new Franchise Owners is, Aikins doesn't miss a beat: "Cash flow. At first, many do not understand that you aren't going to be making money on Day 1, so you need to plan at least 6 to 12 months out to account for that.
"Create a realistic budget and business plan and be sure to manage your payroll and overhead. We'll always be here to help, but at the end of the day it's your business. You make the decisions."
For more information on the Signal 88 Franchise support, click here.
To learn how you can get started as a franchise owner, visit http://www.signal88franchise.com/ and fill out the inquiry form.