As the Signal 88 Security network grows, so too does staff behind the scenes at the company's headquarters.
Signal 88 has recently added three new positions in the Business Development department, including two new Business Coaches. These coaches help Franchise Owners grow their businesses, provide support and learning opportunities, and help them overcome obstacles.
One of these new Coaches, Art Calderon, is already making an impact on the Signal 88 network.
"I started at Signal 88 in January 2018. I had some management experience coming in, but I was a little tentative in the beginning because I thought I'd have to know everything about owning a business.
I learned quickly that each franchise owner is different. And I realized the importance of treating them as individuals, not entities."
"Their unique stories helped me realize that I didn't need to know everything about business," Art explains.
"Instead I need to help owners overcome their unique obstacles. I do this with encouragement, providing honest feedback, and asking a lot of questions."
"And listening," he adds with a grin.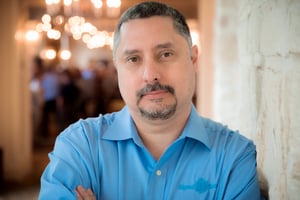 Business coaches offer a wealth of knowledge and support, but it can be challenging at times to relay that message while still allowing Franchise Owners to freely run their businesses.
"I always assume the best about our owners and try to approach each situation without pretense. I truly respect business owners. They have guts and are the reason America is great. I care about their success and want them to feel like they have support and aren't stranded on an island. I want to help them see the big picture: that this is a great opportunity and they can make this business what they want it to be."
Over 75% of Signal 88 owners come from military or law enforcement backgrounds, and it's no secret that they are typically strong-willed and direct. Art served in the U.S. Army during the Gulf War, and this experience has helped him relate to many of the Franchise Owners.
"I understand military culture. I know the language, the values, and I've met people from all over the world. I think much of our character was built from military ideals that aren't normally found in today's world, so having that commonality is important when building those relationships with owners."
As Signal 88 strives to be a leader in the security industry, a commitment to continued learning is key to long-term success.
"When I first started, I was shocked at the amount of trust placed in me. After only a month, I was allowed to be the MC at our annual convention. That meant I'd be speaking in front of the whole franchise network!
"I think this helped give me some credibility right away…and it also forced me to learn quickly. That trust helped me progress in my role, so I try to pass that feeling of trust to our owners.
"I feel like I'm coming into this organization at the perfect time. We are big enough that most of the initial growing pains are out of the way. But we're still small enough that I can learn and communicate with everyone here, including Reed [Nyffeler, CEO of Signal 88]. He is a sincere and honest leader, and I think the sky is the limit for Signal 88."
What advice would Art give to a new Franchise Owner?
"If you completely buy in and are willing to put in the work, there's a huge opportunity.
If you aren't 100% committed, this isn't the right choice for you."