Every year, the Signal 88 Security franchise group hosts their annual convention where owners, employees, and others involved in the organization are invited to a three day event to roll out new initiatives, discuss ideas in breakout sessions, and present the last year's award winners.
2019 marked the 10th year for Signal 88's convention and saw the largest turnout in history. The theme of this year's convention was "Inspire".
Owners listened to the story of Kevin Ryan and Meredith Sutton, owners of Service Brewing Company. With over 80% of our owners coming from military or law enforcement backgrounds, their story was not only relatable, but inspiring to see how they built their business as a way to honor those that have put their lives at risk and their country and community first. Service Brewing Company does so by donating a portion of all purchases to charities that support service men and women and first responders and has raised over $80,000 so far!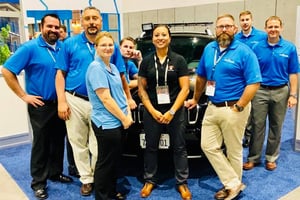 Once such charity was
Healing 4 Heroes
who also spoke at the convention. Healing 4 Heroes was founded to help wounded veterans as well as those who suffer with PTSD by connecting them with an ADA compliant service dog. Piper and Robert told their stories of how H4H was created and how their dogs helped them regain a sense of normalcy in their lives. Their stories were impactful and inspiring, bringing tears to the eyes of many in the room.
As a way to help increase Healing 4 Heroes' impact, Signal 88 donated over $30,000 to Healing 4 Heroes, with each franchise in the million dollar club being a sponsor of a service dog.
During the final night of convention, franchises who have made the largest impact in the last year are awarded the prestigious "Franchise of the Year Award". This award is given to the best franchise in the following categories: New Franchise of the Year, Most Improved Franchise of the Year, Franchise of the Year Runner-up, and Overall Franchise of the Year. The winners were:
Check out the spotlight videos of the 2017 winners here.
To read more about this year's convention, check out our blogs on Signal 88's vendors that attended and new initiatives being rolled out.
To learn how you can become a franchise owner and join us at the next convention, visit signal88franchise.com.