There are thousands of franchise businesses in today's market. The most successful ones have proven, repeated success such as Subway and Chick-fil-A, but that doesn't mean they aren't without failures. If you are thinking of starting a franchise, here are the top 7 things to consider so that you can start off successfully:
1) Pick an industry that is recession proof
Trends come and go, and technology continues to change the business landscape. Owning a Beeper store may have been a good investment 30 years ago, but that store wouldn't have lasted long. Think about goods or services consumers have and will always need and find a niche in that industry. This will ensure you are able to bring in revenue, grow, and continue to reap the benefits for years to come.
The security industry has been around since the dawn of civilization. Safety is a basic human need and thus, people are willing to pay to feel safe and secure. In today's polarized world, the security industry is not only relevant, but thriving. In fact, according to Grand View Research, the security industry could reach $290 Billion by 2025! Signal 88 Security may not be the biggest security company in the industry, but with our unique franchise model and technology platform, we are well on our way.
2) Choose a franchisor that has a proven track record
Since franchises have a very specific road map and business plan for success, it isn't hard for others to emulate that same process. Competition is fierce, so make sure your franchise concept isn't a copy cat and that they have long-term proven success against the competition. What is their market share? Is system-wide revenue still growing? Are they adding more successful franchises consistently?
As the private security industry's #1 rated franchise, Signal 88 Security has separated itself from the competition in our 10+ years of franchising. With double digit growth year over year and franchises opening up all around the world, Signal 88's model has been proven to work.




3) Run the numbers
Perhaps the largest barrier to entry to potential franchise owners is the start-up cost. Before deciding on a franchise, make sure you understand all of the start-up and operating costs and review the company's Franchise Disclosure Document which covers all of the franchisor's financials in detail. Be sure to ask about veteran discounts, in-house financing options, and make sure you have enough money to cover costs incurred before revenue starts accruing.
While a lot of franchise concepts require a brick-and-mortar building, Signal 88 Security does not. This means faster start-up and lower overhead than most businesses. Also, with Signal 88's new in-house financing programs and veteran discount, qualified candidates can get started for $5-10k up front.
4) Honesty is key
Franchisors and franchisees should work together and trust each other in order for everyone to be successful. If a franchisee can't trust the franchisor, then what's the point of buying a franchise? If a franchisor can't trust the franchisee, then that could hurt the brand's reputation. Some candidates are so determined to be a part of a brand that they'll lie or inflate their financials or commitment level just to get started. Be honest with yourself and with the franchisor from the start and be ready to commit yourself fully to their brand and processes. On the flip-side, franchisors have been known to portray themselves differently just to sell a franchise. Talk to existing franchise owners if you're worried about not getting the full truth.
At Signal 88 Security, not only do we treat our owners like true business partners, but we consider them family. We value our owners' feedback and have even set up a Franchise Exchange Council which is an elected group of owners who meet regularly to make suggestions on how to improve the business. We also have online forums to discuss issues candidly as well as get together for an annual convention every year. We are open and honest about everything we do and look for owners who display the same values. We want to add to our family, not sell franchises.
5) Pick a franchise concept that will support you
Think about your unique skill set. Are you good at sales, but not operations? Maybe you're the creative type, but not the most organized. Your franchise should be able to support you in the areas in which you lack so that you can utilize your potential. Make sure you research all of the franchisors support systems, if they are included in royalties, and how functional they are.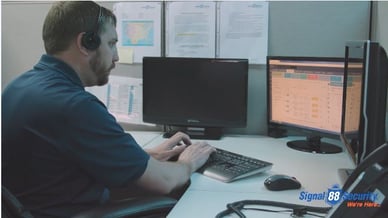 Signal 88 Security has a robust support structure to allow our owners to focus on what they do best. Over 80% of Signal 88 Owners come from military or law enforcement backgrounds, so we've tailored our approach to support those skill sets, but it is also vast enough to give owners of different skill sets the same level of support. To see a full list of the support we give to our owners, click here.
6) Develop a growth strategy
It is one thing to open a business or franchise, but it is another thing to grow that business into an enterprise. Before opening your franchise, create short and long-term goals and plan for how to achieve those goals. How does expansion work with the franchise system? How quickly does a typical franchise grow? What markets can you grow in to?
A typical Signal 88 Security Franchise can cover their costs within 3 to 6 months which allows for rapid growth from there. A Signal 88 franchise that has been operating for at least a year brings in an average revenue of $894,000 a year with a gross profit margin of 40%*. With protected territories, some franchises have earned over 1 million in revenue per year without having to expand. Other owners have expanded into multiple markets spanning multiple states and have multi-million dollar revenues.
7) Plan for the unexpected
Business ownership isn't easy. You may experience lulls in income, unforeseen service issues, or even personal problems that can derail your business. Be sure to have a back-up plan or extra savings to account for these circumstances.
Signal 88 understands that some things are out of an owner's control. Every owner is assigned a sales coach to help overcome some of these challenges as well as a lending program to help jump any financial hurdles. Our close-knit group of owners often lean on each other's advice for many of the problems they encounter as well. While you can never be certain about when these issues will happen, you can be certain that you'll have a network at your back, willing to help.
---
As you consider these 7 tips for opening a franchise, perhaps the most important aspect is to pick an industry that you are passionate about. If you are passionate about making a difference in your community and serving others, then Signal 88 Security might be the right franchise for you.
We'd love to hear from you! What are some things about franchise ownership that concern you? If you've looked into other franchises, what are some things they did well? What questions do you have about the Signal 88 model?
*Information taken from Signal 88 Security's 2019 Franchise Disclosure Document. Statistic is derived from franchises who have been open and operating for at least 12 months and process payroll.